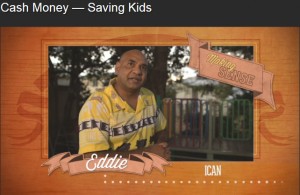 ICAN's financial counsellors are featured in the new NITV series 'Cash Money', airing this month on NITV and SBS on Demand. The series comprises three-minute episodes on a range of consumer and financial topics. The NITV commissioned production crew visited ICAN in late July 2014 to work with the staff to develop scripts and shoot their expert financial and consumer messages, including: "Money Honey", "Buying a new ride", "Smashing debt like a ninja" and tips for kid's savings and dealing with your superannuation.
"Getting our targeted consumer messages out to a wider Indigenous audience is really important," said Aaron Davis, ICAN CEO.  "The episodes discuss the issues our financial counsellors deal with on a daily basis."
The ICAN team from the Cairns and Yarrabah offices joined in on the script writing day and several staff are featured in the Cash Money episodes.  When asked about the production process Unaisi Buli, ICAN Financial Counsellor, said, "it was fun getting creative with the team and exploring what the key messages are within each topic."
Melanie Noble, Financial Counsellor from the ICAN Yarrabah office, features in "Cash Money – Your Super".
Eddie Buli, Consumer Outreach Project Coordinator at the ICAN office in Cairns, features in the "Cash Money – Saving Kids" episode and "Money Honey" due to air on NITV on March 19th at 9:45 p.m.
Unaisi Buli, Senior Financial Counsellor featured in previous episode "Smashing debt like a ninja" which aired in January, and upcoming episodes on mortgages and accessing your credit file ("Street Cred").
Through the month of March, you can catch the Cash Money episodes on NITV and at SBS on Demand.