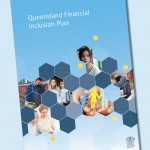 As we celebrate our tenth year of incorporation, Queensland moves into a new era of financial inclusion. We are pleased that one of our guiding philosophies; 'we can achieve greater social impact in our communities by building strong working relationships with government, industry and community sectors', is being embraced in Queensland. Looking ahead in 2017 this guiding philosophy will continue to direct our work and shared success.
The announcement of the Queensland Government's Financial Inclusion Plan in late 2016 was welcomed by ICAN. The three core priorities outlined in the plan align with ICAN's own mission including:
Improving financial literacy and building capabilities
Responding directly to financial hardship
Driving and integrated whole-of-system response
The NQ Indigenous Consumer Taskforce administered by ICAN is a perfect example of driving an integrated whole-of system response. Taskforce partners including the Queensland Office of Fair Trading (OFT), Australian Competition and Consumer Commission (ACCC), Australian Securities and Investments Commission (ASIC), Department of Social Services (DSS), Energy and Water Ombudsman of Queensland (EWOQ), Shelter Housing Action Cairns (SHAC) and the Cairns Community Legal Centre (CCLC) will continue to deliver coordinated responses to systemic issues identified by community service workers and financial counsellors working on the front line.
ICAN plans to develop specialised elective financial literacy units with Taskforce partners with a view to the continual improvement of our successful Yarnin' Money training program. Taskforce partners also plan to expand the Do-Not-Knock Town initiative in 2017, following the initial success of the original Wujal Wujal initiative established to stop detrimental rogue trader behaviour.
The development of our subsidiary social enterprise training organisation, 'ICAN Learn' is on track to becoming registered by mid 2017 and plans to run our first Commonwealth Bank sponsored Indigenous Financial Counselling Mentorship Program as a registered training organisation this year. The Commonwealth Bank's sponsorship of the program has expanded to include scholarships for culturally and linguistically diverse (CALD) groups. It is planned that the inaugural CALD Financial Counselling Mentorship Program will be delivered in Victoria, in partnership with the state's peak financial counselling body, Financial and Consumer Rights Council (FCRC).
It is an exciting time for ICAN and we look forward to working with all our partners in 2017, together we can make a real impact.