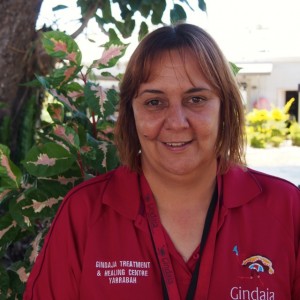 In the Yarrabah Aboriginal community, located 45 minutes south of Cairns, ICAN offers a unique training program to provide community residents with pathways to home ownership.  For Ailsa Lively, a Yarrabah resident and CEO of the Gindaja Treatment and Healing Indigenous Corporation, her dream of owning her own home became a reality on October 22, 2014, when she became the first person in Yarrabah to purchase a home via a 99 year lease in the Deed of Grant in Trust (DOGIT) community.
As a Traditional Owner, Ailsa felt strongly about Yarrabah residents having pathways to home ownership.  "I feel strongly about being able to own my own home when there is uncertainty in public housing."  For Ms Lively, ICAN's IHOME training, offered to Yarrabah community residents as a part of its money management services, provided her with the tools necessary to become a home owner, such as budgeting for all costs associated with owning a home.  "The training is culturally appropriate and was easy to understand."
"It helps those going down the line of home ownership by making them aware of all the hidden stuff behind home ownership and the expenses that are likely to occur" said Ms Lively.  "The training really emphasises the need to budget for these expenses."
Indigenous Home Ownership Education (IHOME) was designed by the Australian Government to assist Aboriginal and Torres Strait Islander people who are interested in purchasing or building their own home on indigenous land, and is delivered in coordination with the State Government Home Ownership Team (HOT).  Under the IHOME program, ICAN offers six workshops to prospective home owners in the Yarrabah and Palm Island Aboriginal communities, with topics designed to assist clients to make an informed decision about home ownership.
Ailsa notes that the training also gave her the confidence in knowing she could take the important steps towards owning her own home.  "The training gave me a sense of security to know that I could do it" she said.  "It's so important not to rush in to such an important decision, but to have all of the tools necessary to help that process."
For Ailsa, being able to provide security for her family's future was important.  "There's security in knowing that your generations' future is stable over the next 99 years."
"I am pleased to lead the way for the people in my community, and I encourage other Yarrabah community members to pursue the dream of owning their home."
More information can be found at, Indigenous Business Australia (IBA): http://www.iba.gov.au/wp-content/uploads/20141022_MediaRelease_HomeownershiponIndigenouslandnowarealityinYarrabah.pdf