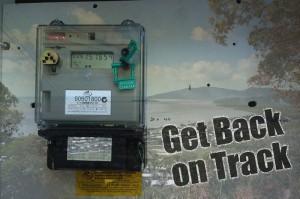 The rise in electricity costs have hurt the hip pocket of many Australians as witnessed in Yarrabah, with many Money Management clients having outstanding debts of anywhere between $1600 and $11,000. ICAN's financial counsellors who would normally call Ergon Energy's Keeping Customers Connected team to negotiate a payment plans for individual residents decided the scale of this problem required something 'more'.
That 'more' was bringing Ergon Energy, Energy & Water Ombudsman of Queensland (EWOQ) and Yarrabah Aboriginal Shire Council together to create 'Get Back on Track'; a pilot energy savings program for residents in Yarrabah struggling with their electricity bills.
The first step was to identify why Yarrabah residents have such high bills. Unlike most towns that have off-peak tariff options to reduce electricity costs, the majority of Yarrabah residents only have one, tariff 11; the highest cost tariff. The 'Get Back on Track' team also identified that many people in Yarrabah use old energy sucking appliances, like window mounted air conditioners or refrigerators with bad seals.
'Get Back on Track' commenced this week, with 10 high-energy use homes signing up to the pilot program. An electrician will upgrade wiring to allow additional tariff options on meters at pilot program homes. Appliance energy use assessment will be conducted in the pilot homes and energy efficient appliances (white goods) will be supplied through the No Interest Loans Scheme, where needs are identified.
By signing up to the pilot program all homes commit to participating in a money management and energy smart education workshop to assist in the management of existing and reduce the costs of future electricity bills. Both workshops will be backed by one-on one ongoing financial counselling support. ICAN hopes that in the future a review committee will be established to identify participants eligible for possible debt reduction, consistent with Ergon Energy's Customer Hardship Policy.
ICAN's Business Development and Research team will evaluate the 'Get Back on Track' pilot program throughout its duration and prepare a final report on completion, watch this space.