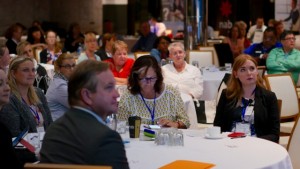 ICAN's financial counselling and capability team headed down to the Financial Counselling Association of Queensland (FCAQ) annual conference at Cloudlands in Brisbane earlier this month.  The venue's spectacular chandeliers, spiraling staircases and surreal wall adornments provided a heightened atmosphere for sharing information. The two-day conference included opportunities to both discuss and hear about Professional Development, Credit/Debt issues, Gambling issues and Consumer Protection.
The conference's keynote speaker was the Honorable Yvette D'Ath Queensland Attorney General who gave an informative overview of the QLD Office of Fair Trading activities; State funded financial counselling gambling services and the enormous contribution that the financial counselling sector is making in Queensland communities.
The overall theme for the conference was "New Beginnings", based on the FCAQ's rejuvenated commitment to supporting members through access to resources, professional development opportunities and sector promotion. ICAN's Jon O'Mally and FCAQ President said, "the response to the success of the conference from members, sponsors and presenters has been overwhelming. One member emailed, the caliber of presenters was amazing, informative, entertaining, inspiring and certainly thought provoking; the conference left me feeling in the true spirit of the theme that we are entering "New Beginnings"."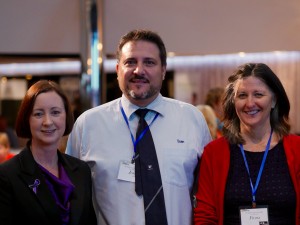 Discussing the importance of the sponsors and stallholders Mr. O'Mally said, "They are critical to the success of conferences like ours and I'd like to give a very big shout out to ANZ, Energy Australia, NAB, Comm Bank, Financial Ombudsman Service, Credit Investment Ombudsman, Energy Water Ombudsman Queensland, Credit Corp, Collection House, Westpac and the Telecommunications Industry Ombudsman for their support." Keiran Deasy NAB Customer Care Hub Manager explained the feeling is mutual, "thank you for being so welcoming, I spoke to some of the other stallholders and they all agreed, you Queenslanders are a friendly bunch."
Clifford Little ICAN Financial Counsellor and first time FCAQ conference attendee said, "Personally I thought it was one of the best, well presented conferences I've been to. Everything that was presented was relevant and interesting and the format was spot on.  This was a good developmental conference for me. All speakers and presenters were "Par Excellence".  The conference was well organised and I personally got a lot out of it. Looking forward to the next one."
"The conference couldn't have taken place without the hard work of the executive committee and I'd like to thank Annette Bongiorno (Secretary), Ronald Fave (Treasurer), Jan Perkins, Robert Boothroyd, Jodie Logovik, Unaisi Buli and Louise Crocombe for making it all possible. I'm personally looking forward to another productive year with FCAQ and can't wait to see everyone in Port Douglas this time next year," said Mr. O'Mally.
(Pictured Top Left: Packed house on Day 2 of FCAQ Conference  Middle Left: Honorable Yvette D'Ath Queensland Attorney General, Jon O'Mally, President FCAQ and Fiona Guthrie, Executive Officer Financial Counselling Australia)