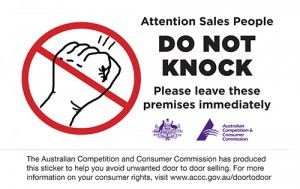 The Federal Court has found that AGL South Australia Pty Ltd and its marketing company, CPM Australia Pty Ltd, broke the law when a salesperson attempted to negotiate an agreement despite the presence of a 'do not knock' sign on the consumer's front door. In this case, which occurred in South Australia in November 2011, the sign was affixed to the consumer's front door and contained an image of a fist knocking with a line through it and the words "DO NOT KNOCK Unsolicited door-to-door selling not welcome here".
The Australian Consumer Law (ACL) requires salespeople to leave immediately on request of the occupier or consumer with whom they are negotiating. The Court's decision confirms that consumers can use a sign to request uninvited salespeople to leave their premises and do not need to meet the salesperson face-to-face to ask them to leave.
"Businesses must respect people's wishes in their homes. If households do not want unsolicited sellers at their door, they can convey this clearly through a prominent sign on their property and the Court's decision means that these signs cannot be ignored," ACCC Commissioner Sarah Court said.
"This is particularly important for vulnerable consumers, those from non-English speaking backgrounds or anyone who feels uncomfortable asking a person who is already on their doorstep to leave" said Ms Court.
A 2010 ICAN Report 'Unconscionable Conduct and Aboriginal and Torres Strait Islanders' highlighted the vulnerability and targeting of Indigenous consumers in direct marketing situations.
"This decision has the potential to provide a higher level of protection for Indigenous consumers and members of the FNQ Indigenous Consumer Taskforce including the ACCC, ASIC and Queensland Office of Fair Trading will be making a concerted effort over the coming year to get these stickers on peoples doors throughout North Queensland's regional and remote Indigenous communities," said Aaron Davis, ICAN CEO.
"The taskforce aims to take the concept a step further and work with a community to make Australia's first Do Not Knock Town" he said.
Justice Middleton emphasised the purpose of the provision in his judgment and commented "the provision is directed at unsolicited visits by salespersons to consumers in their homes and is designed to protect consumers due to the inherent vulnerability of the relationship."
His Honour noted that in door-to-door selling "consumers do not have the option of walking away from the sales situation and may feel threatened to agree to an offer simply to put that situation to an end." Justice Middleton found that the sign in this case conveyed a clear and unambiguous request to leave the premises without knocking on the consumer's door.
It is important that consumers know they have rights when approached by a Door-to-Door salesman. A sales agent who contacts you at your door must:
leave immediately if you ask them to and not return for 30 days;
not visit you at all on Sundays or public holidays, before 9 am or after 6 pm on weekdays, and before 9 am or after 5 pm on Saturdays without your permission;
show you their identity card and tell you their name, the contact details of the company they represent and why they are at your door;
tell you about your right to cancel the contract if you change your mind.
ICAN wants to get the message out to Indigenous consumers that if you or your community has been targeted by door-to-door traders and you're not happy with their conduct, please call our hotline on 1300 369 878.