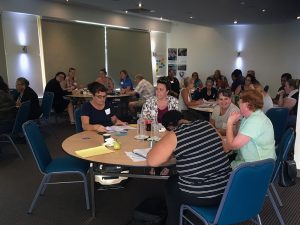 Last week, ICAN staff joined twenty-seven service providers from across the Cairns and Townsville regions, in a two-day family violence training workshop, delivered by Financial Counselling Australia (FCA). The workshop, part of a national training program developed by FCA, provides tools for financial counsellors and capability workers to better assist people impacted by domestic and family violence, including victims and survivors of domestic family violence (DFV), as well as perpetrators.
The training provides an overview of family violence, including its many forms (eg physical, sexual, economic, technological, social), the size of the problem and its causes. "Our sector has of course always seen clients affected by family violence, but we've never had comprehensive training about it before," said Fiona Guthrie, Executive Director of Financial Counselling Australia, who delivers the training to the financial counselling and capability sector.
"We talk about what family violence means in a financial counselling/capability context and how we may need to both reinforce and adapt our model of service delivery to use a trauma-informed approach," she said.
"We spend a lot of time reinforcing our existing counselling skill set as well as new skills in asking about and naming family violence. We also talk about unconscious bias and how that impacts on our work. And of course, we need some specific skills: making sure our clients are safe, understanding the laws that apply in relation to relationship debt and the interaction of family violence on tenancy law," Fiona explained.
ICAN staff noted how the training provided a demonstrated link between financial counselling and domestic violence issues that can arise in our casework. "It was a fantastic workshop that provided appropriate knowledge for financial counsellors, particularly in regard to debt issues, legal impacts and options for victims of family violence. Some great resources were made available, such as the Financial Safety Checklist, that will certainly help in our work with future clients and improving our service," said Conrad Dwyer, Financial Counsellor at the ICAN Cairns office.
Staff commented on the prevalence of family violence, and how the training provided context for viewing it as a big picture issue to be addressed. "For me, Domestic and Family Violence can't be boxed by where you live, how much you earn, your age, your gender, your family heritage, the influence of drugs or alcohol, as it's an unacceptable act that doesn't discriminate," said Eddie Buli, Business and Sector Development Officer and Yarnin' Money Trainer. "As individuals and as a global society, if we ignore domestic and family violence, accept Domestic and Family Violence as normal, make excuses for it and justify it. Then we to are at fault for the increase of the domestic and family violence statistics," he said.
For Carmen Hegarty, Yarnin' Money Trainer, the information provided reflected a broader awareness of the issue. "The information provided by the lecturers shows to me that society in general are aware and doing something on a much larger scale," she said.
Staff noted the respectful nature of the trainers – in dealing with a sensitive subject that impacts upon so many members of society and discussed the ability of the trainers to create a safe environment for participants. "As this was my first FCA Family Violence training, I was apprehensive. The reason being that I came from a very violent home, growing up in this environment until I was 15 years of age. So, I was not sure what to expect of the training, or what was expected of me!" said Carmen Hegarty. "But as it turned out, I felt very safe within myself and comfortable with the rest of the group who attended. The second day I did less overthinking and enjoyed the program."
Carmen noted the respectful nature of the trainers, and their ability to handle the sensitive subject with care. "The whole experience on such a touchy subject was conducted with empathy, and respect for those who may have been in this situation and passing on this useful information for those who are still in this situation," she said.
"I found the training to be a fulfilling one," said Unaisi Buli, Senior Financial Counsellor. "I really enjoyed the discussions, getting other people's points of views on those who have worked in the sector around Family Violence. I've learnt a lot around understanding family violence, red flags to watch out for and using the FIDO approach when dealing with clients with Family Violence. It also opened my eyes to think about the issues behind the perpetrator," she said.
Staff spoke of their highlights from the two-day workshop as: Day 2 on Relationship debt, joint debts and financial hardship. Kat Lane (trainer) was mentioned as a highlight for one staff, for tackling common legal problems and what laws apply, and staff really enjoyed the interactive nature of the training. "What was so different about this training than most others, was that we were always moving!" Unaisi commented. "We were never sitting down for very long, which kept us active and more focused!"
"Despite being a second-time participant, the Domestic and Family Violence training still resonated memories and emotions of my childhood days," said Eddie. "The Domestic and Family Violence created awareness, discussions and provided tools for the participants to play our part as Financial Counsellors and Financial Capability workers towards assisting, supporting and addressing our clients financial/consumer issues. The training also re-enforced current and new referral pathways for our clients that are in a Domestic and Family Violence situation," he said.
For ICAN staff, the training has been timely, as we've experienced an increase in DFV-related financial counselling issues coming through our doors. "I found the training to be extremely relevant and informative. The presenters were very entertaining and knowledgeable so could handle everyone's questions and insights well," said Martina Kingi, Financial Counsellor at the ICAN Townsville office. "Overall a great 2-day professional development training! I enjoyed the work group sessions the most!" she said.
"Highly recommend to other financial counsellors and capability workers, as it is a holistic course that not only discusses the trauma and consequences of family violence, but also best practice solutions and tips for working with victims and perpetrators within a financial counselling framework" said Conrad.