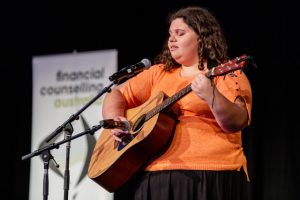 Meeting on the lands of the Mouheneenner people in Hobart, the 2018 Financial Counselling Australia conference's tone was set with an amazing welcome to country presented by Kartanya Maynard. The self-confessed diva beautifully sang and played a traditional song on her guitar, shared her language, stories and dispelled the myths surrounding Aboriginal occupation in Tasmania.
Later in the morning Wiradjuri Professor, Robynne Quiggin from the University of Technology Sydney launched Financial Counselling Australia's third Reconciliation Action Plan (RAP) with RAP Working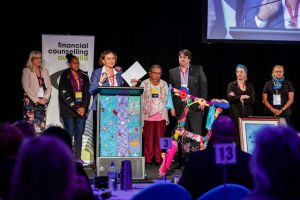 Group Chair and Wangkumara woman, Lynda Edwards and RAP Working Group Member, Domenique Meyrick. All remaining FCA RAP working group members were invited to the stage, including; Aaron Davis, Sue Cook, Carmel Franklin, Leeanne Robertson and Unaisi Buli to receive the framed RAP cover artwork painted by Altovise Buli.
After the RAP presentation, Palm Island Songstress, Jessie Loyd took to the stage to share her stories about hunting and gathering songs around Australia, through her 'Mission Songs Project'. The talk explored the juxtaposition of mainstream media Indigenous deficit and disadvantage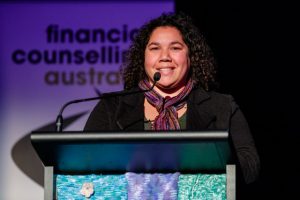 stories that Australia hears all too often, against their own stories of intergenerational resilience and humour. Later that evening Jessie Loyd's band the Mission Songs Project entertained the packed Jan Pentland dinner.
ICAN's favourite aunty and Indigenous financial counselling pioneer, Susan Cook won the Jan Pentland Prize at the dinner. Award presenter and late partner of Jan Pentland, David Morawetz spoke of Susan's 20 plus year career as a financial counsellor and the fact that Susan is one of Australia's first Indigenous financial counsellors. The award follows recognition at Susan's own Queensland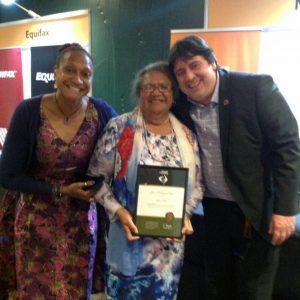 financial counselling conference the year before, read more here.
The following day in the truth or dare spot talks, ICAN's Ray Kent spoke about his journey working with an Aboriginal tour company in North Queensland. Ray started with the group as the man who knew all the answers business wise and ended up undergoing a series of learnings, making discovery mutual. The story was one of survival and reconciliation that has been recognised with a number of tourism awards over recent years.
FCA's Lynda Edwards spot talk was about the complexities on kinship and humbugging, an issue that has no easy answers. "My thoughts when I was writing this was just really on my experience with my family and how it made me feel when my family used me to pay for their drinking or gambling habits," said Lynda. "They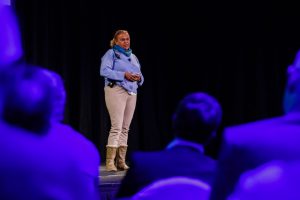 really didn't see how it affected me or my kids."  The great news is Lynda made some hard decisions and her family over time have learned to start financially looking after themselves.
To end this article, there is one great story of reconciliation from the conference that must be shared. Regional Western Alliance's, Chris Gabelish made a poignant observation before belting out a wonderful karaoke version of "time after time" at the Aboriginal and Torres Strait Islander dinner.  Chris said something to the effect, "I know many of you work in organisations that service white fellas and that when they come in for their appointment with you, their jaws drop and that through your professionalism they leave with a smile. That is reconciliation right there, you have challenged their attitudes and their beliefs."