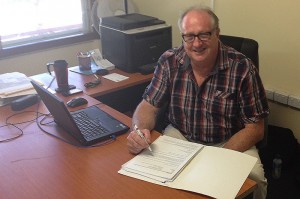 Last month, Ray Kent retired from his position as financial counsellor at the ICAN Money Management office located at Palm Island Aboriginal community in North Queensland, after a 22-year working career in Indigenous affairs.  As a financial counsellor for the Island since 2010, Ray has been a great advocate for consumer issues affecting the Palm Island community in state and national forums such as the Financial Counselling Association of Queensland (FCAQ) and the Australian Securities and Investments Commission's (ASIC) Consumer Advisory Panel.
Locally, Ray has been working with the Palm Island community in the areas of financial counselling and Tax Help, integrated services under the ICAN "Money Management" program.  From 2011-2013, Ray's contribution to the Tax Help program has culminated in a financial return of $432,777 in tax refunds to the community, with an average refund of $1,697.00 per person.
ICAN asked Ray about what motivated him to want to become a financial counsellor for a remote Aboriginal community.  He said:
"I read recently that Professor Peter Shergold, former head of ATSIC and the Prime Minister's Department,  said that in Indigenous affairs it is a mistake to get caught up in risk aversion and sometimes you just need 'to do it'.
"Having worked on Palm Island for some time I got into financial counselling with a belief that you need to 'do it'" he said.
Having worked on various strategies and projects in the Indigenous affairs space, Ray mentioned he felt the need to provide practical assistance.  He led the 'Bring Your Bills' event during MoneySmart Week in 2012, bringing guests from ASIC, the Telecommunications Industry Ombudsman (TIO), Townsville Community Legal Service, Centrelink & Centacare's gambling service for face-to-face assistance to community residents on the Island.
But Ray said the action he is most proud during his work on Palm Island, was for an amount of only $480, where a local resident had been telemarketed and sold a phone that never worked.  The client was told repeatedly that he had to travel to the mainland to take it to a dealer for assessment, and was also being harassed by a debt collector for payments.  Ray recounts that this had occurred for 2 years before he saw the client, with the telco refusing to even consider the matter as the client had no paperwork.
"Eventually the telco accepted the case and agreed they were at fault and only refunded the full amount after weeks of argument" said Ray.  "The client was amazed we got a result after 2 years and fought for 3 months for him."
"$480 might not seem much but for him it was more than 2 weeks of income when you are on Newstart."
Ray believes ending his career as a Financial Counsellor with ICAN, he had now completed the full circle.  Now that Ray has hung up his financial counselling hat and entered retirement, he said he intends to continue his philosophy of providing practical assistance and will be helping the 'Mungalla Aboriginal Tours' at Ingham to grow their business with all proceeds going back to Indigenous employment and training.  Ray said he's proud to be volunteering his time for Mungalla.  "This is an amazing story of survival and reconciliation that has been recognised with a number of tourism awards over recent years.
ICAN is proud to have had Ray's knowledge and expertise over the past four years, as part of the Money Management Program on Palm Island.  We extend our very best wishes to Ray in his retirement and new adventures!