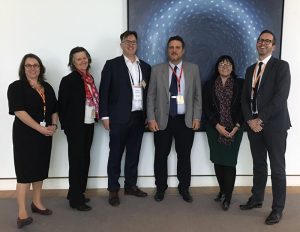 In a joint campaign organised by the Consumer Action Law Centre (CALC), consumer advocates from around the country converged on Canberra to brief government Ministers, Senators and Federal members on the "Small Amount Credit Contract Review" and advocate for the proposed recommendations for increased consumer protections for payday loan and consumer lease borrowers.
Jon O'Mally, ICAN's Operations Manager was invited to join the lobby team. "Jon has firsthand knowledge of the problems Indigenous Australians face when accessing goods and services, and why we need reforms to the consumer leasing industry in particular," said Denise Boyd, Director of Policy & Campaigns, Consumer Action Law Centre (CALC). "He can also share some initiatives to mitigate the problems of unsolicited sales in Indigenous communities through the Do Not Knock-informed town campaign."
CALC also invited key consumer organisations to accompany them on their journey to parliament house, including Financial Counselling Australia (FCA), CHOICE and Good Shepherd Microfinance.
The key recommendations under the SACC Review include:
Payday Loans
Capping payday loan repayments to 10% of the consumer's net income.
Requiring equal repayments over the life of a payday loan
Prohibiting monthly fees if a payday loan is repaid early.
Banning unsolicited offers of payday loans to current or previous customers.
Consumer Leases
Capping fees at 4% of the Base Price of the goods per month, for a maximum of 48 months.
Capping consumer lease repayments to 10% of the consumer's net income.
Banning unsolicited selling of consumer leases.
CHOICE consumer advocate Erin Turner impressed the importance of the joint advocacy work. "It's essential that politicians hear directly about the harm that payday loans and consumer leases currently cause," she said. "Our trip to Canberra was a chance to remind politicians of key facts like that consumer leases can cost up to 884% of the retail price of goods and that all credit products, except consumer leases, have limits on how much can be charged."
"All parties felt the trip was a success," stated Fiona Guthrie of Financial Counselling Australia. "It was heartening to see that politicians from all parties understood the harm from payday loans and consumer leases. Financial counsellors are really keen to see the proposed changes make their way into law."