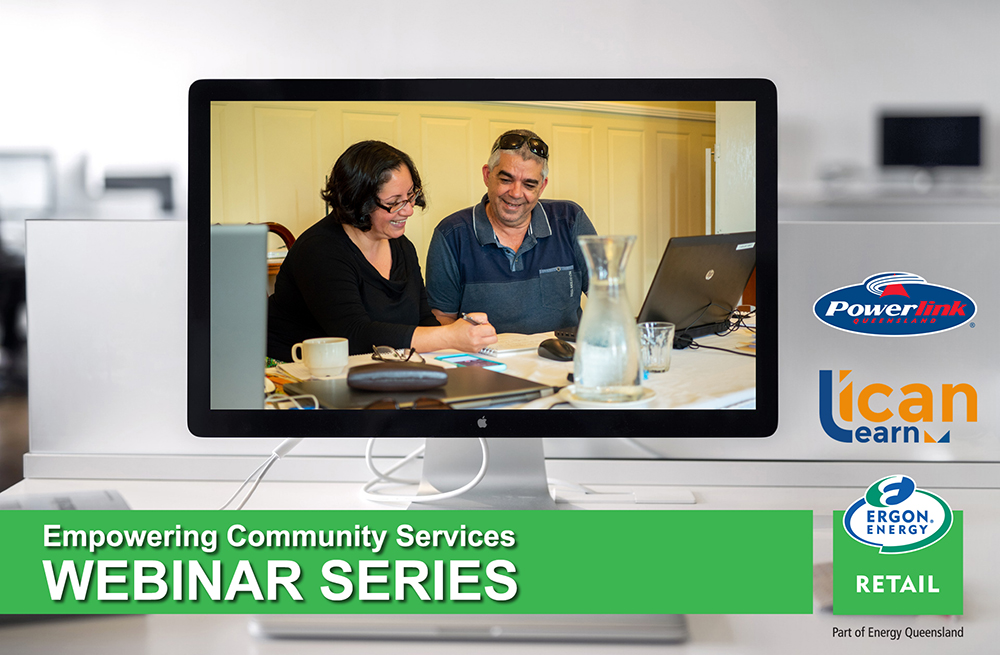 Ergon, Powerlink and ICAN Learn announce a new Diploma of Financial Counselling Scholarship Program, to support the development of new financial counsellors in regional Queensland. Financial counselling and community support services are expecting increased demand as a direct result of the economic fall-out caused by COVID-19. In addition to the scholarship program, ICAN will be delivering a three-part 'Empowering Community Services' webinar series as a professional development initiative to support communities across Ergon Retail's service areas.
The first webinar will be held at 11.00 am on Wednesday the 12th of August, to deep dive into the Ergon/Powerlink scholarship program and provide participants with information on the application process.
Chris Samuelsson, Ergon Energy Retail, Vulnerable Customer Manager, highlighted the need to support the community services sector in Queensland. "It's important that we support the community services sector, as they're on the frontline helping Queensland's most vulnerable," she said. "We want to provide them with the tools to navigate Ergon Energy Retail's vulnerable customer services, access hardship grants and understand the rights and responsibilities of energy consumers."
"We're also really excited to support ICAN Learn in building the financial counselling capacity of regional Queensland through our scholarship program," said Ms Samuelsson.
"We're pleased to be involved in this regional response to the ongoing financial impacts of COVID-19. When government, industry and the community sectors work together, we can maximise impact," said Rebecca Richards of ICAN Learn. "Through the use of video conferencing technology, we're hoping to reach communities that have limited access to services."
The 'Empowering Community Services' webinar series will include live interviews with leaders from Ergon Energy Retail's Customer Inclusion team and Energy consumer advocate organisations. The additional webinars will focus on providing professional development tools for community services workers to assist their clients with their energy and related hardship needs and are expected to roll out in mid-September and mid-October.
If you are interested in learning more about the Ergon/Powerlink Scholarship Program or the 'Empowering Community Services' webinar series, please register here for:
Webinar 1 – Introducing the Ergon/Powerlink Diploma of Financial Counselling Scholarship Program
Webinar 2 – Energy savings and hardship strategies with Ergon
Webinar 3 – Energy Consumer with the Energy and Water Ombudsman of Queensland (EWOQ)