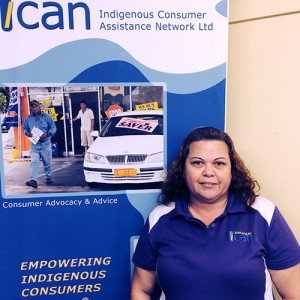 Jobseekers in the Yarrabah Aboriginal community (40 min south of Cairns) can now access information sessions on consumer rights, personal finance management training and direct pathways to financial counselling, as part of a new pilot program delivered by ICAN and PVS Workfind.
The pilot program, an initiative of ICAN, the Financial and Consumer Rights Council Inc (FCRC) and PVS Workfind, is being trialled in Yarrabah, for jobseekers referred from PVS. The program aims to improve the capacity of job seekers to undertake sustainable employment outcomes by addressing financial barriers facing Indigenous jobseekers as they commence entry into the workforce. ICAN hopes the program trial will lead to increased knowledge of consumer rights and provide pathways to financial counselling assistance for jobseekers needing to access ICAN's services.
The ICAN training is delivered in two half-day information sessions, with personal financial counselling also on offer for jobseekers. The information sessions are delivered in two streams: consumer rights and personal finance management. The former session includes information on: rights around individual and joint debt issues, what happens when you cannot pay your debts, debt collection and client rights, with the latter providing information around Centrelink issues, direct debts, the costs of payday lending and budgeting.
The first in a series of training sessions was delivered on May 12th & 13th by Bettina Addo, ICAN Financial Counsellor and Coordinator of ICAN's Money Management Program in the Yarrabah community, to 13 jobseekers currently completing their forklift warehouse training with PVS.
Bettina explains why it's an ideal time for jobseekers to participate in the ICAN workshops. "There are issues for people entering or re-entering the workforce who then may be targeted by debt collectors," said Bettina. "So if we can engage with them early, we can armour them with knowledge of their consumer rights and how to deal with debts."
"One of the highlights from the workshop was the level of interest and engagement from the participants," Bettina noted. "The participants have just finished their warehouse course and are very keen to obtain employment, but want to know how to access their credit files, and want options for buying a car, as there are very little public transport choices in the Yarrabah community."
All participants are provided with a financial information kit to take away from the workshops.
Bettina is looking forward to the ongoing delivery of training to PVS Workfind participants. "I have worked previously for 6 years with in the Job Network Service Industry with in the Cairns and Yarrabah region as a Case Manager," said Bettina. "So I have a working knowledge of the industry and how these workshops can really assist jobseekers."
The workshops are scheduled for delivery every fortnight until June 30th, with the next workshop being held on May 27th & 28th.
Background
ICAN is well established in the Yarrabah community. ICAN's Money Management Program (MMP), funded by the Department of Social Services (formerly FaCHSIA), has been operating in the Yarrabah community for six years. Through the Money Management Program, ICAN offers a range of services to Yarrabah community residents, including financial literacy education, financial counselling, Tax Help, access to No Interest Loans (NILS) and IHome training.
PVS Workfind is a leading employment services and training provider with 45 sites across Western Australia, South Australia, New South Wales, Queensland, Victoria and the Australian Capital Territory. We are conveniently located to provide a range of employment services to local and national businesses and people of all ages and backgrounds. Professional Vocational Services, known as PVS Workfind, assists unemployed Australians to enter or re-enter the workforce and/or to commence full-time education or vocational skills training. Providing employment services since 1984, PVS 'has established strong collaborative links with community services providers to deliver a holistic range of innovative and tailored services to job seekers'.*
The Financial and Consumer Rights Council Inc (FCRC) is the peak body for Financial Counsellors in Victoria. The FCRC actively supports Financial Counsellors by promoting the needs of those experiencing financial hardship.*
*Source:
http://www.pvs.com.au/-id=2101010084BF536633B0A065CA257590002F918C.htm
http://www.fcrc.org.au/fcrc-and-the-sector/about-fcrc/