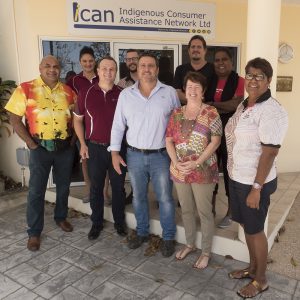 ICAN held an intensive professional development workshop for Save the Children's, Gulf of Carpentaria Financial Counselling and Capability team earlier this month. The team from the 'Gulf' travelled to Cairns from Mornington Island, Doomadgee and Normanton to attend the event. The three-day training program included seminars and networking opportunities with the State Penalties Enforcements Registry (SPER), Queensland Office of Fair Trading (OFT), Energy and Water Ombudsman Queensland (EWOQ), Good Shepherd Microfinance's, Good Money Store and ICAN's very own Yarnin' Money team.
Reflecting on the event, Save the Children's North Queensland Regional Manager, Matthew Berne said, "The opportunity to network with government agencies and community services that can assist us develop the scope of our service delivery and client support is invaluable. We've formed a great partnership with ICAN, that has already resulted in one of our team becoming a qualified financial counsellor and another enrolling in the Indigenous financial counselling mentorship program this year. We'll continue to explore opportunities to work together to develop of our financial counselling and capability workforce and service delivery."
ICAN Acting CEO, Jon O'Mally said, "ICAN and our registered training arm ICAN Learn is devoted to developing the capacity of the national financial counselling and capability sectors. ICAN's long term vision for Indigenous Australia is to develop a network of Indigenous financial counsellors and capability workers that have established access points to consumer regulatory bodies, internal and external dispute resolution schemes and complimentary services. The recent professional development workshop is another step in achieving this vision."
ICAN's Yarnin' Money Coordinator, Eddie Buli said, "Starting the three-day professional development program with the Yarnin' Money 'Service Provider' course provided an opportunity to build a rapport with the group through the sharing of stories. It was really interesting to learn about the Gulf communities and the financial issues that they face. Our hope is that the storytelling techniques learned in the course can help service provider participants delve deeper into the underlying causes of their client's financial issues and provide appropriate referral points for support."
ICAN would like to thank the Commonwealth Department of Social Services and Agency partners, SPER, OFT, EWOQ and Good Money Store for supporting this important initiative. Please contact Eddie Buli on 1300 369 878 or email edward.buli@icanlearn.edu.au if you'd like to find out more about the suite of Yarnin' Money financial literacy programs or visit our website at http://icanlearn.edu.au .