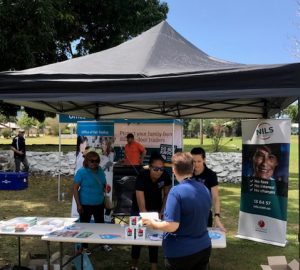 There's nothing like the smell of sizzling sausages, fried onions, and bacon and eggs on a barbie – which is exactly what took place at Yarrabah on the 26th September, when ICAN, Good Money Cairns, QLD Office of Fair Trading, and the Energy Water Ombudsman QLD collectively hosted a Community BBQ for Yarrabah residents. The aim of the BBQ was to continue to raise community awareness of Yarrabah as a "Do Not Knock" town by providing free stickers to residents, as well as promoting NILS and the Good Money store in Cairns, yarning about electricity issues, and supporting Yarrabah with ongoing free financial counselling and consumer advocacy services.
Simone O'Mally, Store Manager of Good Money Cairns, stated "Good Money Cairns really enjoyed the community BBQ day at Yarrabah, it was a great opportunity for us to network with other community organisations and speak to some potential clients about our No Interest Loans (NILS)."
The feedback from community members was very positive, not only enjoying the free sausage sizzle, but "putting a face to a name is very important," as one resident remarked.
ICAN Financial Counsellor Leeanne Griffith stated, "it was a great day with other significant stakeholders to re-connect with the Yarrie community and to discuss current issues".
Overall 120 people enjoyed the BBQ and it was agreed that more Community BBQs are on the agenda in 2018!