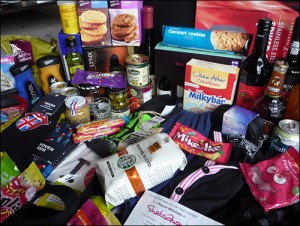 In 2013, ICAN staff on Palm Island saw a number of clients who were experiencing financial hardship as a result of making (or attempting to make) large fortnightly payments to Chrisco. We saw clients who had been making payments for lay-by Christmas hampers and a range of household and entertainment goods, over several years. It was evident that given their limited incomes, the customers were struggling to meet their payment obligations. We found that when payments made via direct debit were dishonoured, Chrisco increased the payment amount in order for the customer to catch-up. This catalysed a domino effect of hefty bank charges when the higher payments were subsequently dishonoured.
When many of the clients who presented to ICAN had been unable to meet the full cost of the goods, they were allegedly advised that they would lose 50 per cent of the amount paid if orders were canceled. Here, our clients informed us that they felt they had to choose between losing half of the amount paid or settle for something other than their original order.
One of the benefits of utilising a lay-by service such as Chrisco is that it is meant to assist people in managing their Christmas spending by stretching the cost over longer periods of time. The service has been commonly referred to as a stress-free way to manage the cost of Christmas. However, ICAN continued to see clients on Palm Island who were experiencing ongoing financial hardship when Chrisco continued to take payments, even after they had paid in full for their goods. This system, titled "Head Start" required customers contact the company to opt-out of this arrangement, "in order to avoid having further payments automatically deducted by Chrisco after their lay-by had been paid for" (ACCC 2015).
Chrisco explains the HeadStart* plan: "Your direct debit payments will continue until your order is fully paid for. Once your order is fully paid for, unless you have opted-out, a HeadStart Plan will be created for you and direct debit payments will continue accordingly. A HeadStart Plan allows you to make payments towards the next year's order, while giving you time to decide exactly which products you want."
In 2009, Chrisco was estimated to be conservatively turning over $420 million per year in Australia and the number of catalogues and items for purchase has grown exponentially. In 2012, Chrisco was fined $175,000 (NZD) for misleading customers about their cancellation rights under the Layby Sales Act in New Zealand.
In 2013, ICAN raised the Chrisco issue affecting Palm Island residents, to the Australian Competition and Consumer Commission. On 11 November 2015, in a matter raised by the ACCC, the Federal Court found that Chrisco had breached the Australian Consumer Law in regard to a number of these practices, including:
The Court found that Chrisco included an unfair contract term in its 2014 lay-by agreements relating to its "HeadStart Plan", which allowed Chrisco to continue to take payments by direct debit after the consumer had fully paid for their lay-by order
The Court also found that between January 2011 and December 2013, Chrisco made a false or misleading representation to consumers that they could not cancel their lay-by agreement after making their final payment, when the ACL provides that consumers have the right to terminate a lay-by agreement at any time before delivery of the goods (ACCC 2015).
The Australian Competition and Consumer Commission are seeking pecuniary penalties, declarations, injunctions and costs.
For more information, see:
ACCC – Federal Court finds Chrisco's lay-by agreements contained unfair contract term
https://www.accc.gov.au/media-release/federal-court-finds-chriscos-lay-by-agreements-contained-unfair-contract-term
* Source:
HeadStart Plan: http://www.chrisco.com.au/ShopWithConfidence/#Q11