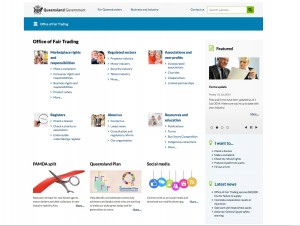 The Office of Fair Trading recently relaunched its website as part of the Queensland Government web upgrade. Every page has been rewritten to make it easier to read and understand.
The new website can give you:
• clear information that's simple to find
• better access to our online services
The new website clearly explains your rights and responsibilities whenever you deal with a trader as well as featuring an easy to use make a complaint section. The new content also gives updated details about safety campaigns, including our initiatives and warnings.
Business rights and responsibilities information has been updated, giving the facts you need. The website continues to be the key resource about product safety laws in Queensland. It gives the latest information about campaigns, mandatory standards and recalls.
The URL is still www.fairtrading.qld.gov.au.