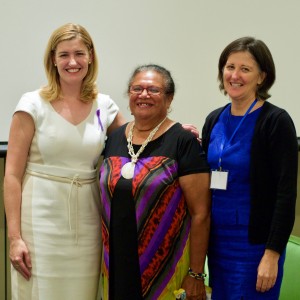 On International Women's Day, the Queensland financial counselling sector celebrated the long-standing financial counselling career of Susan Cook, the first Aboriginal financial counsellor to enter the sector and pave the way for other Indigenous financial counsellors and financial capability workers nationally.
Addressing the Financial Counsellors' Association of Queensland conference, Susan spoke about the humorous and challenging times over her career. The event concluded with the presentation of a gift to Susan from the Hon. Shannon Fentiman, Queensland Minister for Communities, Women and Youth and Fiona Guthrie, Executive Director of Financial Counselling Australia. ICAN caught up with Susan after the event to find out more about her pioneering journey as one of Australia's first Indigenous Financial Counsellors.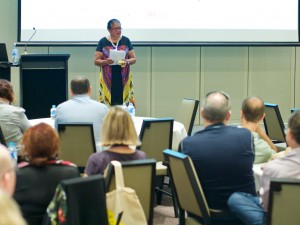 Susan began her career as an Aboriginal & Torres Strait Islander Outreach Financial Counsellor in March 1996. We asked Susan, what have been the biggest changes in the sector over that time? "The biggest change is the number of Aboriginal and Torres Strait Islanders in the sector and the resources and support on offer, like Money Smart financial literacy tools and the ATSI Google group" said Susan. "The use of mobile phones, internet and computers has also made a big difference to the way we work."
Susan reflected upon her mentors throughout the years and the great advice they gave her. "Adriana Philp, Co-ordinator at Lifeline Cairns was my first mentor and encouraged me to study and shared her knowledge and skills to support our clients," she explained. "Tony Devlin, now Territorial Coordinator of Moneycare was my supervisor for many years, he always emphasised the importance of self-care and time management, which I believe are two really important attributes for lasting in the profession."
ICAN asked Susan what advice she'd give to Aboriginal and Torres Strait Islander people coming into the sector. "Financial Counselling is a great way for us to learn, gain new skills, then share this information with all our mob," she said. "It will be challenging at times, but the feeling we get from supporting our clients to improve or understand their finances is worth it. If you need further information, you can always send it out to the ATSI google group for support."
What piqued Susan's interest in becoming a financial counsellor? "I can remember my parents taking an Aboriginal couple, who came to town from working on a remote station and they were expecting their wages to be in the bank, when they went to the bank there was no money. This was what is known now as the Stolen Wages," Susan explained. "So for me, I wanted to support our families with social justice and to share information about their rights and responsibilities as consumers, at a young age. Financial counselling allows me to follow in my parent's footsteps."
The team at ICAN would like to personally thank Susan for leading the way and being a great support to up and coming Aboriginal and Torres Strait Islander financial counsellors, both here at home and nationally. Susan Cook is currently employed with The Salvation Army Moneycare programme as a Problem Gambling Financial Counsellor and offers face to face financial counselling in Cairns, Innisfail, Tully, Mareeba & Kuranda, by appointment at local community centres.