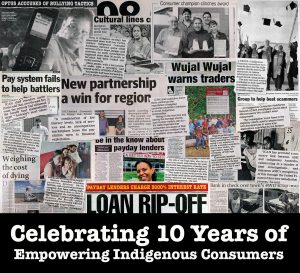 This month the Indigenous Consumer Assistance Network Ltd (ICAN) celebrates 10 years of incorporation and our continued vision of empowering Indigenous consumers. Starting out as a consumer affairs project housed within Queensland's Aboriginal local government network, ICAN now additionally supports the development of Indigenous financial counsellors nationally. This point exemplified with the commencement of our 3rd National Indigenous Financial Counselling Mentorship Program last week in Cairns.
"Looking back over that past 10 years, our proudest achievement would be increasing the number of Indigenous financial counsellors ten-fold in Australia and providing an opportunity for Indigenous people to represent their own consumer issues in national forums," said ICAN CEO and Co-Founder Aaron Davis. "Partners like the Commonwealth Bank of Australia, Department of Social Services and Financial Counselling Australia have been with us since day 1 and have been integral in making this vision a reality."
As a specialist organisation, ICAN would barely have survived without the long-lasting commitment of both state and national consumer regulatory bodies and the financial services sector's reconciliation action plan process to improve outcomes for Indigenous consumers explained Carmen Daniels, Head of Research and co-founder of ICAN.
"We have had the ear and support of the Australian Securities and Investments Commission, Australian Competition and Consumer Commission and the National Indigenous Consumer Strategy Reference Group both before and since our incorporation", said Ms Daniels. "This has led to a significant number of enforcement actions against businesses exploiting Indigenous consumers over that time, with ICAN providing the vital link between community and consumer regulator."
"Whilst pay day lenders, dodgy car dealers and consumer lease companies continue to thrive even in spite of these enforcement actions, there has been a major decrease in the exploitative telemarketing practices in the telecommunications sector", said Ms Daniels. "The removal of all funeral insurance providers from Centrepay was another great outcome for Indigenous consumers; one that we hope will be replicated with the consumer lease industry."
"Great partnerships are built on shared values and strong working relationships", enthused Mr Davis. "ICAN is blessed to have people within government consumer regulatory bodies, industry and the community sector that have believed in ICAN's work since day one."
"The North Queensland Indigenous Consumer Taskforce is a great new example of the collective impact that dynamic partnerships can produce. The building of relationships between state/national consumer regulators, ombudsman schemes and frontline financial counsellors is something that we would like to see and support being replicated nationally over the next ten years", said Mr Davis.