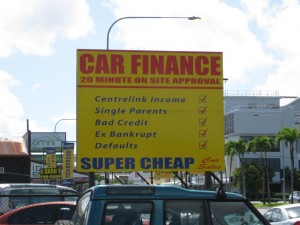 The Federal Court has today fined Cairns-based lender, Channic Pty Ltd (Channic), broker Cash Brokers Pty Ltd (Cash Brokers) and the sole director of both companies, Mr Colin William Hulbert, a total of $776000 for breaching consumer credit laws. The Court also ordered the payment of costs of $420000.
Channic and Cash Brokers both operated from Supercheap, a used car dealership in Cairns which was also owned by Mr Hulbert. ASIC brought civil penalty proceedings after the Indigenous Consumer Assistance Network (ICAN) reported that Channic and Cash Brokers were dealing unjustly with vulnerable Indigenous consumers from the remote community of Yarrabah.
The misconduct involved Cash Brokers assisting consumers to obtain loans from Channic at 48 per cent interest to purchase vehicles from Supercheap, while charging brokerage fees of either $550 or $990, also financed under the loans. Channic did not assess whether the loans were suited to the consumers' requirements.
ASIC Deputy Chairman Peter Kell said, 'The penalty awarded by the Federal Court is not just condemnation of this misconduct, but is a warning to other lenders who might consider pursuing profits at the expense of their obligations to consumers.'
'This outcome represents ASIC's continuing commitment to pursue those who take advantage of vulnerable consumers'.
ICAN CEO Aaron Davis said, 'this fine should put all of those shonky finance companies and car dealers on notice. ICAN and our NQ Indigenous Consumer Taskforce regulatory partners including ASIC will continue to work to together to enforce all Australian consumer and credit protection laws.'
On 30 September 2016, the Federal Court found that:
Channic and Cash Brokers breached the responsible lending provisions contained in the National Credit Act;
Channic engaged in unconscionable conduct; and
Channic entered into unjust transactions (refer: 16-335MR).
At the time, the Court stated that: "having regard to the pattern of income and expenditure reflected in the consumers' bank statements, it would have been clear that the borrowers would not have been able to meet the additional financial obligations of further loan repayments".
In handing down today's penalty finding, Justice Greenwood said: "The conduct represents a total disregard of important normative obligations cast upon Channic and CBPL by the NCCP Act, all designed to protect consumers from entering into "unsuitable" credit contracts with all the financial stress and emotional worry associated with the consequences of having entered into such contracts."
When imposing a penalty of $220,000 against Mr Hulbert, the court stated that: "he engaged in the conduct "without regard" to its unlawfulness. He was objectively, recklessly indifferent, to whether his conduct and that of Channic and BPL put the consumers in a position of being parties to contracts that were unsuitable for them."
http://download.asic.gov.au/media/4212781/asic-v-channic-penalty-judgment.pdf