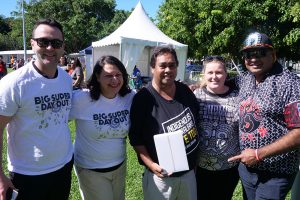 On Friday, July 6th, $2.6M of superannuation was located for Aboriginal and Torres Strait Islander peoples living in Cairns, when they attended the Big Super Day Out event held during the annual NAIDOC Week celebration. It was the first time First Nations Foundation has brought its award-winning superannuation outreach event to Cairns' NAIDOC Friday in the Park, with fantastic results! ICAN financial counsellors were onsite to provide local community engagement and financial counselling support during the event.
Headed and hosted by the First Nations Foundation, the Big Super Day Out brings representatives from many of Australia's biggest superannuation funds, the Australian Tax Office (ATO) and the Department of Human Services (Centrelink) to help Indigenous peoples engage with their superannuation. The event, now in its third year of operation, is successful due to its focus on connecting community members directly with the superannuation industry in a safe and confidential space. "This means Indigenous people can get on the spot support with everything from consolidation, contributions, claims, insurance and investment information," said Jordie Nirens, Event Manager and Project Officer with the First Nations Foundation.
The Cairns Big Super Day Out assisted 40 community members locate a total of $2.6 million of their own superannuation money. "The Big Super Day Out in Cairns was a great success," Jordie said. "The Foundation is absolutely thrilled with this result and recognises that in many situations, finding superannuation that people didn't know they had, can be life-changing."
"Having ICAN's financial counselling service on site complimented the day," said Jon O'Mally, ICAN's Operations Manager. ICAN assisted people to link their MyGov accounts to the ATO, so that people can amalgamate their own super funds. "We also provided financial hardship advice, information on how people can combine their super and discussed insurances attached to one's super," he said.
"It has been excellent working with ICAN who are providing invaluable support in the form of on-the-ground knowledge and information that will help us achieve better superannuation outcomes for Indigenous people in far North Queensland," Jordie explained.
ICAN staff were pleased to be able to assist the Cairns Big Super Day Out with local community engagement. "Having local organisations like ICAN and its staff working the Cairns event meant we were able to promote it to our local community and bring people in the door," said Eddie Buli, ICAN's Business and Sector Development Officer, who was onsite on the day, drawing in the crowds.
"The event was a great way to connect to many Indigenous people in Cairns, some whom might not know how to seek support for superannuation issues," said Unaisi Buli, Senior Financial Counsellor at ICAN.
In its 10th Big Super Day Out events held so far, over 800 people have been assisted, with $6.3M of super located for Indigenous members.
The Big Super Day Out continues its North Queensland tour today on Palm Island, with activities commencing this morning at 10:00 a.m. Palm Island residents can come down to the PCYC building to seek assistance to locate their current super funds, seek expert advice from the ATO to find lost super and obtain financial counselling support from ICAN.
If you're in Palm Island today, come on down to the Big Super Day Out!