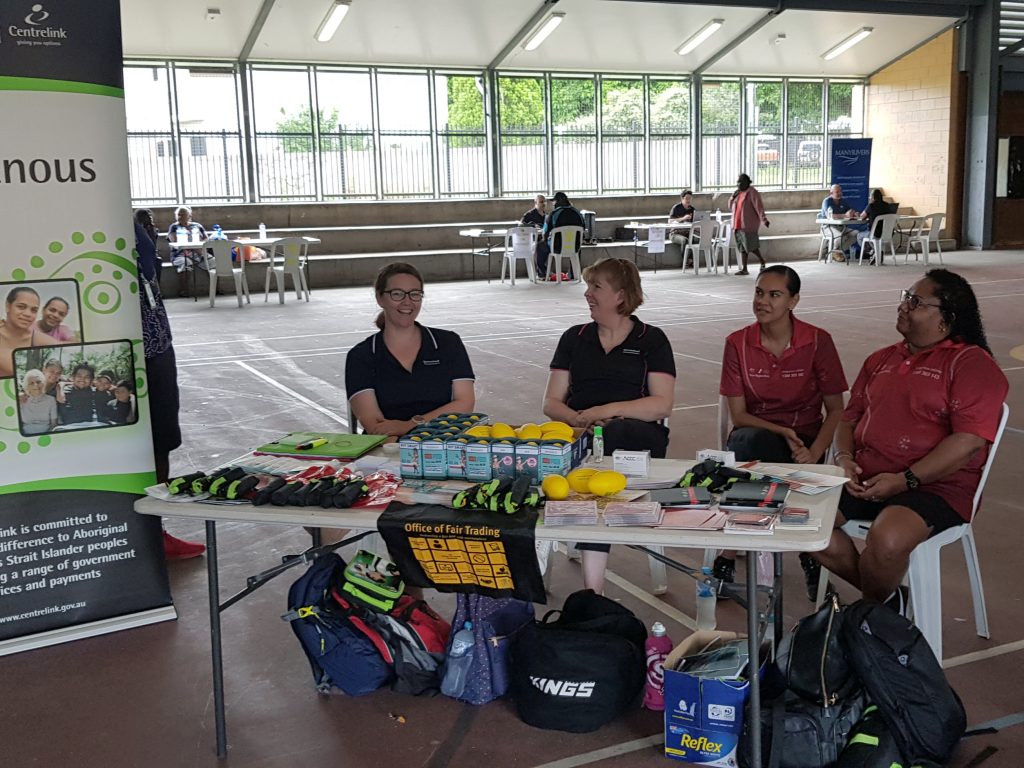 Teamwork delivers results for the Palm Island Class Action Settlement Scheme
Some very nervous financial service providers from the mainland boarded a light plane to beautiful Palm Island on 3rdApril, for ICAN's first 'Yarnin' Money Day'. The event, organised by ICAN Financial Counsellor, Conrad Dwyer, was to provide financial assistance to recipients of the $30M Palm Island Class Action Settlement Scheme. Thanks to the commitment and support of our project partners, the day was a huge success, with information, education and advocacy provided to over 120 community members on the day.
"As part of the court judgement, ICAN, as the lead agency, was asked to deliver extended financial counselling services for the Palm Island Class Action Settlement Scheme" explained Conrad. "It was a great opportunity for all of the agencies to embrace the entire community of Palm by offering support services to both claimants and non-claimants alike, and addressing financial issues common to everyone on the Island."
One Stop Shop
The day was a huge success thanks to the support of ICAN's interagency support partners, including Good Money Cairns, CBA, Legal Aid Qld, Many Rivers, ACCC, OFT, Centacare and the Palm Island Justice Group.
Advice was available across a variety of services, including the effects of settlement payments on Centrelink payments and Medicare, assistance with will preparation, superannuation, No Interest Loans, start up business support, and free legal advice, to name a few.
For ICAN Financial Counsellors Unaisi Buli and Carmen Hegarty, it was their first visit to Palm Island.
"I was so excited to be part of this event on Palm Island," said Unaisi. "Being located under one roof with our project partners allowed us to make instant referrals, which was too deadly! Whether someone needed a JP to certify documents, apply for a NILS loan, or review their CBA account setup, we were all there as a one stop shop. It was great to see many family groups there too, which helps get the word out about what help is available, and how to avoid being scammed."
Family Connections
For Carmen Hegarty, the visit to Palm had extra special meaning, as her great grandfather is a Traditional Owner of Palm Island, a descendant of the Wulgurukaba people (meaning "canoe people").
"I had a fantastic time networking and getting to know the people of Palm Island. As always, I tend to meet family along the way, so I was more than pleased to be on Country! It was awesome to bring agencies directly onto Palm, especially as some people may not have the funds to leave the Island to access the services they need or even be aware they exist at all. The variety of services available on the day helped not only inform the settlement claimants about their options but helped the entire Palm Island community."
Carmen continued "although it can be intimidating at first for the community to see us all there, as soon as you tell them who you are – your grounding and history – you are accepted immediately. And humour is a great tool in breaking down barriers. It's important to get to know people first, then you can talk money business."
For Conrad, events like this are not just about the day; it's about the positive after effects that can change a community. "The community really felt supported by all of the agencies that attended – I had 35 missed calls the next day! The flow on effect is that that people tell family and friends which not only increases the demand for services but increases financial literacy within the community."
"I am so appreciative of all the support given by our interagency partners who made this such a great day, and particularly the support received from the Palm Island Regional Council, PICC Justice Group, ATSI Women's Legal Service and the Department of Prime Minister and Cabinet, in helping the event and the free BBQ run smoothly. We plan on making the next event even bigger and better!"
The last word goes to Samantha Cooper from Legal Aid Qld, in recognising the incredible work done by Conrad in organising this great event. "I was really impressed with the trust ICAN have built within the community, they all spoke very highly of you. It's a credit to the organisation, and in particular to Conrad, that you have their respect and their confidence. Thank you for the opportunity to witness that".