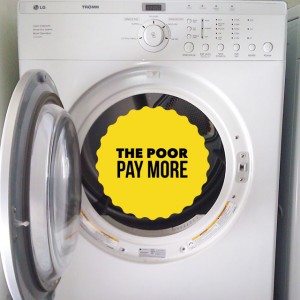 The poorest and most vulnerable Australians are paying grossly inflated prices for household goods via "rent-to-buy" or "consumer lease" deals, as shown by a new report from the Australian Securities and Investments Commission (ASIC) released earlier this month.
The report found that people receiving Centrelink payments are being charged much higher prices than the prices advertised by consumer lease providers. For two year leases, half the Centrelink recipients in ASIC's study paid more than five times the retail price of the goods. The highest price charged by a consumer lease provider for a clothes dryer was equivalent to 884%.
'The most disadvantaged Australians have been ripped off by expensive consumer leases for too many years. People can be trapped in these agreements for up to four years, paying many times more than the retail price of the product. Lease providers advertise an attractive weekly price but don't reveal the huge overall cost of the lease', says Denise Boyd, Acting CEO of Consumer Action Law Centre.
There is no restriction on the fees consumer lease providers can charge, unlike most other forms of credit. Consumer groups say loopholes in the regulations have enabled consumer lease providers to structure their business models to avoid the restrictions on other credit products.
'A number of rent-to-buy businesses are exploiting a loophole that has allowed them to dodge controls in place for other lenders. That's why we need tighter regulation and cost caps so the regulator is able to enforce the intent of the law.'
Consumer groups are calling for the Australian Parliament to exclude rent-to-buy products from Centrepay, Centrelink's budgeting tool for essentials.
"ASIC's report says Centrelink recipients are more likely to be charged higher amounts under these rent-to-buy arrangements, despite being on lower incomes. Access to Centrepay is effectively giving a Government stamp of approval to this booming predatory business, and is entrenching financial hardship. Consumer leases must be removed from Centrepay as a matter of urgency. We need to support safe and accessible alternatives to high cost credit products that actually enhance the financial wellbeing of Australia's most disadvantaged."
The Federal Government recently announced a review of consumer leases and payday loans. The Review Panel is expected to report by the end of the year.