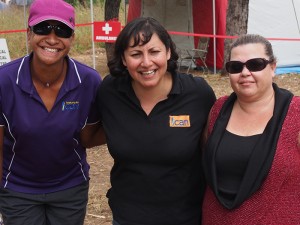 It's been a great year for ICAN!  We've been getting back to our roots in the communities we service, with a focus on providing consumer advocacy and financial counselling outreach services to Cape York and the Torres Strait, and providing value-add services through our Money Management Programs in the Yarrabah and Palm Island.
This year, ICAN recognised the need for a coordinated approach to tackling Indigenous consumer disadvantage in the region and established the "North Queensland Indigenous Consumer Taskforce" together with consumer regulatory bodies, the: Australian Securities and Investments Commission (ASIC), Australian Competition and Consumer Commission (ACCC) and the Queensland Office of Fair Trading.  The Taskforce was set up to foster our community relationships and tackle consumer detriment facing remote Queensland communities.  It provides direct pathways to consumer regulatory bodies, enabling community residents to have a voice about their consumer issues. 
As a result of our coordinated advocacy, ICAN celebrated several outcomes from court actions taken by the ACCC and ASIC in the areas of telecommunications, credit provision and door-to-door sales.  ICAN commends the hard work undertaken by all of the regulatory bodies in 2012-2013, and wish to express our gratitude for listening to the voices of Indigenous consumers.
ICAN's service delivery has made a significant impact on the community.  In late 2012, ICAN's financial counseling outreach to the Cassowary Coast in Far North Queensland yielded an outstanding $85,000 disputed insurance claim payout to a Cyclone Yasi affected client.  This was a significant win for the client and for ICAN, as we wrapped up our financial counselling outreach to the Cassowary Coast due to funding cuts under the Natural Disaster Relief Scheme. 
ICAN is leading the way in addressing the under representation of qualified Aboriginal and Torres Strait Islander people in the financial counselling sector.  The Indigenous Financial Counselling Mentorship Program student body grew this year with eleven new placements, comprising 5 ICAN Staff members from Cairns and the Yarrabah Community, and 6 external students joining us from Derby (WA), Alice Springs (NT), Port Augusta (SA), Penrith (NSW) and Cairns. I'd like to publicly recognise the hard work of Majella Anderson, Training Coordinator in coordinating the mentorship program nationally.
ICAN's ongoing strategic focus of building staff capacity has resulted in new opportunities in home ownership education.  The ICAN team has received training to deliver the iHome training on Palm Island, a structured education program for community residents interested in taking up home ownership opportunities.  ICAN's "iHome" education training commenced on Palm Island in early 2013, as part of an integrated approach facilitated by the Department of Families, Housing, Communities and Indigenous Affairs, the Queensland State Government's Home Ownership Training (HOT) Team and Indigenous Business Australia (IBA).
Finally, ICAN is exploring the development of our social impact measurement in the money management/financial counseling space, making a significant investment into our online Community Services database. In February 2013, ICAN Communications Coordinator Carmen Daniels was awarded the Commonwealth Bank Social Impact Scholarship to undertake graduate studies in Social Impact with the University of New South Wales' (UNSW) Australian School of Business. The development of these human and technological resources will provide a solid foundation for ICAN's internal program and service delivery evaluation processes.
Informed by our 2014 strategic business plan, ICAN will enter a new phase of its unique and culturally specific service delivery. I commend all of the hard work by ICAN's Partners, Board and Staff in working towards our shared vision of Empowering Indigenous Consumers.
Aaron Davis, ICAN CEO