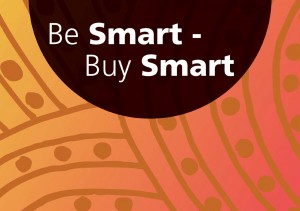 Australian fair trading agencies have launched a new publication to provide Indigenous Australians with information on consumer rights.
The new ´Be Smart – Buy Smart´ booklet provides helpful tips and information for Indigenous consumers about their shopping rights and responsibilities under the Australian Consumer Law.
Fair Trading Acting Executive Director, David McKarzel said Indigenous people living in remote areas are sometimes targeted by dodgy traders and scammers.
"There are laws to provide protection against unfair trading practices and the Be Smart-Buy Smart booklet can assist Indigenous Australians to understand their legal rights and obligations," Mr McKarzel said.
"The Office of Fair Trading is taking a proactive step to engage with Indigenous consumers and to educate traders in the marketplace.
"The booklet provides information through straightforward messages and illustrations.
"By following the booklet´s advice, Indigenous consumers can ensure they get a fair go when shopping – saving time, money and trouble."
The booklet covers topics such as shopping rights, credit and book up, refunds, guarantees and warranties, lay-bys, contracts, scams, resolving issues and lodging a complaint.
The booklet is a joint consumer awareness initiative by all Australian fair trading agencies, with support from the National Indigenous Consumer Strategy Reference Group.
The 'Be Smart – Buy Smart' booklet can be viewed on the Office of Fair Trading website at www.fairtrading.qld.gov.au and free copies can be ordered by calling 13 QGOV (13 74 68). You can also download the booklet here on the ICAN website.