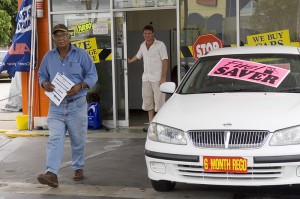 ICAN first heard that the Queensland Government had agreed to pay $30 million and apologise to Palm Island residents as a Federal Court class action settlement on the 1st of May. The settlement addressed the racially discriminative Queensland police response to the 2004 Palm Island riots which left many in the community traumatised. ABC contacted CEO Aaron Davis to make comment on the potential predatory implications of the settlement.
In the ABC interview Mr. Davis said, "Palm Island is an area of extreme disadvantage, so it's great for the residents that this money is coming through…". "Unfortunately whenever big pools of money get put anywhere in Indigenous communities there is a lot of sharks around who could take advantage of that."
Those sentiments were confirmed only two days later when Conrad Dwyer, ICAN financial Counsellor reported seeing two second-hand car dealers prying around the Island's business district. "I couldn't believe it, just two days after the media coverage and the sharks were already out," said Mr. Dwyer. "We really only have a small window of time to reach out to the 447 claimants."
Assisting people with their options in a matter like this is an unusual activity for ICAN's financial counsellors explained Mr. Dwyer. "Usually we are assisting people in financial crisis, in this situation we're trying to provide information and options that can prevent future crises," said Mr. Dwyer. "It might be providing information on buying vehicles or how to set up secondary interest-bearing savings accounts, whatever it is, we're there to provide free financial advice without judgement."
Impact on Centrelink entitlements, debts, taxes, protection from exploitation and ability to manage large sums of money are just some of the areas claimants will need to consider, making this financial counselling service a very specialised role explains Peter Gartlan, financial counselling sector consultant. "We have to remember these payouts were gained through trauma," said Mr Gartlan. "It's not about telling people what to do with their money, it's about providing all the options, so the money doesn't end up adding to trauma already experienced."
"Over the coming month ICAN will be meeting with NQ Indigenous Consumer Taskforce members, Palm Island Aboriginal Council, Commonwealth Bank of Australia and the class action law firm Levitt Robinson to develop a collective action plan that addresses identified issues," said Mr. Davis. "So far Levitt Robinson has made contact with us and our Palm Island Financial Counsellor, Conrad Dwyer presented at a community claimant meeting on Palm Island, where many questions were fielded."
If you're a Palm Island resident and would like to make a booking to meet with one of our financial counsellors on Palm Island or in Townsville, please call 1300 369 878.
Related ABC news links below: