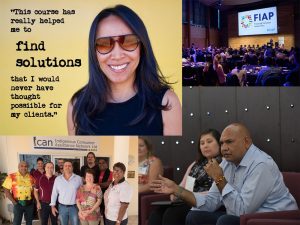 As 2018 draws to a close, we reflect on how ICAN has carried out our mission of Empowering Indigenous Consumers, over the last twelve months…
2018 was the year that saw ICAN Learn take its first real steps as a social enterprise and Registered Training Organisation (RTO). ICAN's vision of contributing to the professionalisation of the financial counselling and capability sector was realised with delivery of five concurrent Diploma of Financial Counselling courses in Cairns, Melbourne and Bendigo. This achievement is a testament to our vision and long-standing partnerships, celebrated over the past ten years of incorporation.
At the onset of 2018, ICAN and the Commonwealth Bank of Australia expanded the model of our Indigenous Financial Counselling Mentorship Program, to deliver a pilot Multicultural Scholarship Program in Melbourne, providing 12 fully funded scholarships to persons working in multicultural communities seeking to become qualified financial counsellors. This course was publicised and created in liaison with multi-cultural organisations in Melbourne. Lead lecturer Robyn Shepherd-Murdoch reported that financial counselling agencies in Victoria are now requesting student placements from ICAN Learn, due to the high-quality residencies provided through our 220-hour work placement program, an integral part of our Diploma of Financial Counselling.
In March, ICAN was officially welcomed into the FIAP program as one of 30 'trailblazer' organisations committed to tackling financial exclusion. The Financial Inclusion Action Plan (FIAP) is led by Good Shepherd Microfinance on behalf of the Australian Government, in partnership with Ernst & Young and the Centre for Social Impact. At a local level ICAN is working with Good Shepherd Microfinance's Good Money Store in Cairns, to re-introduce the No Interest Loans Scheme (NILS) in Yarrabah/Palm Island and provide support financial counselling services to clients unable to access Good Money products.
In April, ICAN was invited to present at the ABLE Financial Empowerment Conference in Vancouver, Canada, where ICAN Co-founder Carmen Daniels presented on ICAN's innovative financial inclusion initiatives such as our Do Not Knock Informed campaigns under the North Queensland Indigenous Consumer Taskforce and our Indigenous Financial Counselling Mentorship Program. Additionally, Yarnin' Money was highlighted at the ABLE Conference as a best practice initiative in Indigenous financial literacy when Eddie Buli, Business and Sector Development Officer was a panel speaker at the conference's Indigenous Financial Wellness Panel. The Yarnin' Money methodology was well received by financial empowerment educators in Canada, who were keen to learn more about the program. The program, developed with funding from Financial Literacy Australia, now compliments ICAN's state and federally-funded ICAN financial resilience and wellbeing programs, from Townsville to the Torres Strait Islands. The program has also been utilised by our corporate partner, the Commonwealth Bank, and has been delivered to their community partners in Sydney, La Perouse and the Kimberley.
In May, ICAN advocated on the potential financial impacts of the Palm Island $30M settlement scheme. The settlement addressed the racially discriminative Queensland police response to the 2004 Palm Island riots which left many in the community traumatised. After lengthy discussion with the settlement scheme administrator and the preparation of an affidavit, Justice Murphy ordered that a 'payment for financial counselling' be made under the Palm Island Class Action Settlement Scheme to support people receiving the funds.
The judgement set a precedent for financial counselling agencies such as ICAN to be explicitly recognised in court ordered compensation or settlement schemes. ICAN has since established a working group/committee like the NQ Indigenous Consumer Taskforce to ensure Palm Islanders have access to information and services that will help them make positive financial decisions on receipt of settlement monies. Membership to the Palm Island working group includes the Department of Human Services (DHS), Indigenous Business Australia (IBA), Department of Prime Minister and Cabinet, the Queensland Department of Aboriginal & Torres Strait Islander Policy (DATSIP), Legal Aid Queensland, the Commonwealth Bank of Australia, the Queensland Office of Fair Trading (OFT), the Australian Competition and Consumer Commission (ACCC), the Australian Securities and Investments Commission (ASIC) and settlement administrators, Levitt-Robinson lawyers.
In July, ICAN joined forces with the First Nations Foundation to deliver Big Super Day Out events in Cairns and Palm Island. The Big Super Day Out brings superannuation funds, the Australian Tax Office, the Department of Human Services (Centrelink), the ASIC Indigenous Outreach Program and community partners like ICAN together to provide a one stop superannuation shop on the day. To date, Big Super Day Out events have reunited $14.5M of lost superannuation with Aboriginal and Torres Strait Islander fund holders.
In September, ICAN Learn hosted EnergyAustralia and state financial counselling peak body leaders from Victoria, South Australia, New South Wales and Queensland at a workshop in Cairns. The purpose of the workshop was to create a wide-ranging training and professional development plan for the sector. The resulting plan formed the basis of a $1.2M, three-year investment by EnergyAustralia for the continued professionalisation of financial counselling.
The partnership will deliver an educator scholarship program, Diploma of Financial Counselling scholarship programs, accredited Professional Supervision/Mentor scholarship programs and an Advanced Diploma of Financial Counselling scholarship program in participating states. With EnergyAustralia's sector commitment and the Commonwealth Bank's continued support in increasing the representation of Indigenous and multicultural financial counsellors and capability workers, ICAN Learn is in a great position to both grow and create a big impact over the next three years.
ICAN and Tableland Community NILS also joined forces to tackle financial exclusion throughout the Tablelands region by combining organisational expertise and programs. Upon receiving funding from the Queensland Government's Financial Inclusion Program, ICAN sought collective impact opportunities for place-based service delivery in the Tablelands, Cape York and Torres Strait. Tablelands Community NILS Manager Anne-Maree Molloy is currently completing her Diploma of Financial Counselling with ICAN Learn and is receiving case support from ICAN's financial counselling and capability team, effectively becoming the first place-based financial counselling service in the Tablelands Region.
Indigenous consumer advocacy is an enduring priority for ICAN, best exemplified in our thirteen years as an independent member to the National Indigenous Consumer Strategy (NICS) reference group. The NICS reference group comprises all state and national consumer regulatory bodies and sets tri-annual action plans to deliver better consumer outcomes for Indigenous consumers. The annual NICS consumer law conference was held in an Indigenous community for the first time this year, on Gunggandji country, Yarrabah.
At a local level, ICAN both established and administrates the NQ Indigenous Consumer Taskforce, a grass roots initiative involving the Australian Securities and Investments Commission (ASIC), Australian Competition and Consumer Commission (ACCC), Queensland Office of Fair Trading (OFT), Energy and Water Ombudsman of Queensland (EWOQ) and selected community service providers to promote collective impact opportunities. The Do-Not-Knock Informed Community initiative is a great example of what can be achieved through joint action, with Wujal Wujal, Yarrabah, Hopevale, Palm Island and Woorabinda now signed on as participating communities.
We also celebrate some of our administrative achievements in 2018, when ICAN received its Human Services Quality Framework (HSQF) certification and ICAN Learn passed its first Australian Skills Quality Authority (ASQA) audit as a registered training organisation, with resoundingly positive feedback from students!
Thank you for following ICAN in 2018 and we look forward to seeing you in 2019!