Yarnin' Money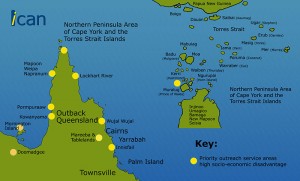 Financial Literacy Australia's Grants Program recognised ICAN's extensive experience in delivering Indigenous financial literacy programs late last month (Nov 2014) by awarding the Yarnin' Money Project $274,000 over a three-year period. Yarnin' Money was 1 of 19 successful projects to be funded in the inaugural grants round. The Financial Literacy Australia grants program received over 245 concept proposals from a great range of non-government organisations interested in financial literacy.
The Yarnin' Money Financial Literacy program is targeted at service providers and residents in some of Queensland's most vulnerable and disadvantaged remote Indigenous communities (see map). The three-phase financial literacy training program will develop and deliver two financial literacy training tools, Yarnin' Money (Service Provider) and Yarnin' Money (Resident). Both training programs will eventually be expanded into online professional development (train the trainer) programs for financial counselling/capability workers and community services providers nationally.
Yarnin' Money (Service Provider) topics include: Introduction to financial capability/counselling, Identifying financial issues, Where can I get financial advice/assistance, Client support and Introduction to Yarnin' Money (Resident) and associated professional development training.
Yarnin' Money (Resident) topics include: Personal financial management, knowing you consumer rights, Dealing with financial institutions and debt collectors, Payday lending, Credit Reports, Managing utility bills and payments and Understanding Centrelink issues.
The Yarnin' Money program will be evaluated and information collected will be fed back into program improvements via action research methods, throughout the duration of the program. It will tell the story of the program's 'Theory of Change' with measurement tools created to measure how the program will assist Indigenous peoples living remotely to: address barriers to financial literacy and move along pathways from financial 'crisis' to 'thriving' towards financial (& social) inclusion.
ICAN has developed its own internal research facility, with staff qualified in: economics, social impact measurement & evaluation and experience in research carried out in remote Indigenous communities. To find out more about Financial Literacy Australia and the Grants Program go to www.finlit.org.au .