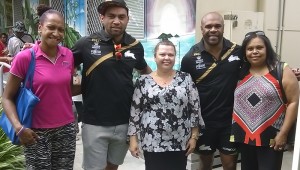 By Unaisi Buli, Bettina Addo & Sandy Rosas
Last week, local organisations came together to provide ongoing support to the Manoora Community Centre and the residents of Murray Street in Cairns. The ICAN financial counselling team was invited to participate in the community meet-and-greet morning with local community services organisations and local Murray Street residents.
The community event focus was on rebuilding the spirit in the community after the events of December 2014, a tragedy felt within the community and across the nation. Community organisations gathered to provide support services and yarning sessions for local residents, with arts and crafts and sporting activities for local children. Organised by Souths Cares* in partnership with the Community Healing Project, it was a significant event for the community, as we came to show our support to the local residents of Murray Street.
Former NRL stars Rhys Wesser and Nathan Merrit met with community organisations and members and spent time with children at the Centre. As ambassadors for Souths Cares, a non-profit initiative founded by the South Sydney Rabbitohs, they came to discuss strategies to provide ongoing support to the community. Inspiring the youth, to maintain education & sporting commitments.
"It was wonderful to see that the South Cares Ambassadors took the time, to talk to each and every little person," said Unaisi Buli, Senior Financial Counsellor at ICAN. "It was an inspiring day and I have so much respect for the players touching base with the people and the community."
ICAN will work closely with local organisations, to provide financial counselling support to the community. "We will provide locally-based financial counselling services in Manoora, for people in need of assistance with their financial and consumer issues, budgeting, debt collection and other matters," Bettina Addo, ICAN Services Manager explains.
"I am starting to get a clearer picture of how much financial assistance is needed in and with our community" said Sandy Rosas, Financial Counselling Support Officer. "I'm sure many will benefit once we establish a local base at the Manoora Community Centre."
Sandy adds that "it was a very touching day for me personally as I had not intended to go down to Murray Street where the flowers lay in memory of what happened there."
"I think it is a healing process for us and the entire community in how we can assist in providing that ongoing support to the Manoora community."
* Souths Cares is an independent not-for-profit public benevolent institution, established to support the local community and address social need across the South Sydney region. Its charter is to support disadvantaged and marginalised youth and their families through the delivery of capacity building programs addressing education, training, health and employment needs.Source: http://www.rabbitohs.com.au/community/souths-cares.html.